3 Reasons Mobile BI is your Key to a Competitive Advantage
Over the past few years, mobile devices have increasingly made their way into our day-to-day lives.
We demand mobile connectivity and access to data anytime and anywhere, which has spurred the growth of mobile devices and sophisticated applications that deliver services on mobile platforms.
With the ability to access all kinds of data at their fingertips, business executives then progressed to analyse their data and make decisions on the go. Unequivocally, this led to the rise of Mobile Business Intelligence (Mobile BI).
As a relatively new concept, Mobile BI has only gained traction over the past few years, when businesses began to see clear benefits of mobile analytics, according to the Technology Evaluation Centres (TEC). However, it is expected to grow very quickly in the coming years, as Gartner predicts that 2015 will see a 20% increase in mobile BI users and that over 50% of Mobile BI users will rely exclusively on mobile devices for insight delivery.
So what exactly does Mobile BI provide that it will drive such growth? And what are the advantages?
1. Access to Real-Time Data On The Go
With a mobile device, access to data is a given. But a Mobile BI solution takes it further, allowing executives to access critical data, analyse it, draw insight from it and make a decision based on it, all while they're on the go. The ideal BI solution is built with real-time visibility, ensuring all data, reports, analysis and insights are up to date.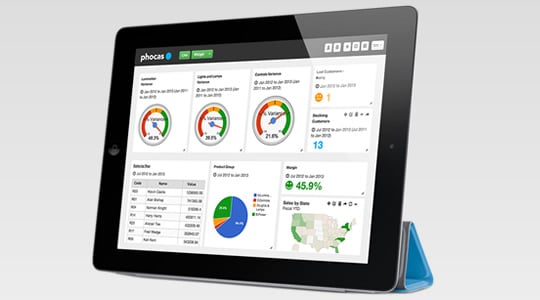 Essentially, business executives now have the ability to draw insight from real-time, critial data to make informed business decisions without having to be at a desk in an office. Location is no longer a factor to be taken into account, for as long as their mobile devices have internet connectivity, it is business as usual.
With this capability, analytics is made mobile, allowing businesses to maximise productivity and make informed, fast decisions when they're on the go.
2. Configurable and Efficient Analytics
Every business has different data analytics preferences – either in process, visual representation or integration with other tools, to name a few. Because of this, just like their desktop counterparts, Mobile BI solutions are built with customisability in mind.
Mobile BI users can apply their own personal configurations to the tool in order to consume information the way they need it. With their configurations in place, executives can be more efficient in analyzing their data and drawing insights, expediting their complete analytics process and ultimately, decision-making.
Research by the Aberdeen Group confirms that companies harnessing Mobile BI make critical management decisions in one-sixth of the time taken by companies without Mobile BI.
3. Collaborative Decision-Making
Donald Farmer, in his interview with The Data Warehousing Institute (TDWI), states that the purpose of Mobile BI is to "provide additional value in collaboration."
Mobile BI solutions are built to support mobile communication, and will have messaging functionality built in. Technology Evaluation Centres found that some Mobile BI tools are equipped with more complex collaboration mechanism to allow the transfer of rich content such as voice, images or videos.
These functionalities allow executives to collaborate with each other during data analysis, to help them draw well-rounded insights, which is key in making better-informed decisions. When it comes down to it, Mobile BI tools go beyond enabling collaboration, into giving you greater value from collaboration.
Accenture's white paper on Mobile BI sums it up perfectly, stating, "The most potent advantage that organisations can gain from Mobile BI is 'in-the-moment' transformation of their business processes. No matter where they are and what business decision they're facing, managers, executives and other employees gain access through Mobile BI to the data they need – when and where they need it – to take the right action and make the smartest decision."
And ultimately, it is the right decisions that can give you a step ahead of your competitors.
We recently presented a live Webinar on Mobile Business Intelligence.