Ambo's very high serious injury rate
Ambulance officers have a very high injury rate resulting in serious workers' compensation claims.
The chart below shows the Incidence Rate (serious claims/1000 employees) for 'Other Health Care Services', which is made up mainly of the experience of Ambulance Officers, and compares it with Residential Care services (the next highest rate) and the Health Care & Social Services Sector as a whole.
Workers' Compensation Claims Incidence Rates: 2000/01-2012/13(p)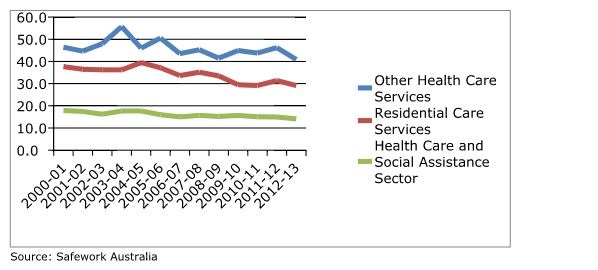 The Incidence Rate for the group made up mainly of ambulance officers was 40.9 in 2012/13, although it had been as high as 55.7 in 2003/04.
The rate in 2012/13 was almost three times (2.9x) that of the Health Care & Social Services as a whole.
Residential Care Services, the next highest sector, was more than twice (2.1x) the average for the Sector as a whole.
Although the Incidence Rate for Other Health Care Services trended down between 2000/01 and 2008/09, it has since plateaued and is even showing a tendency to rise.
The trend in Residential Care Services and that for the sector as a whole have both trended almost consistently downwards over the period.