ENERPAT CAR BALER / LOGGER FOR ELV CARS
The machine comes all Europen parts,from wear plate,electrical system to hydraulic system,also the car baler designed by Mr Mark from ENERPAT UK.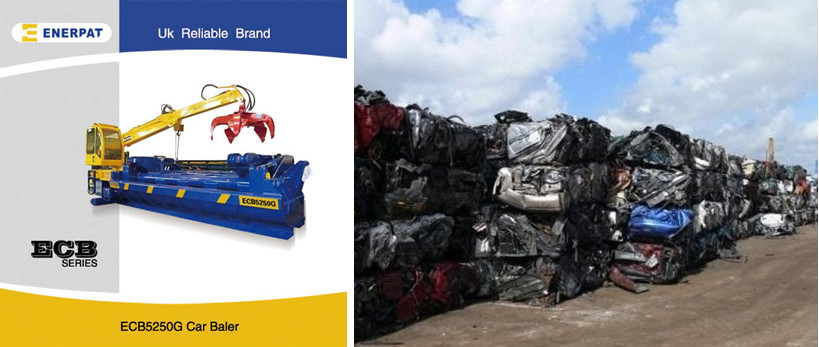 Applications of the CAR BALER/LOGGER:
Scrap Cars
Scrap Car Body
Scrap Car Parts
Light Scrap Metals
Scrap Aluminium
Scrap Copper
Scrap Steel Drums
Quality Features Of The ENERPAT CAR BALER/LOGGER
Original germany made SIEMENS motor;With cooler and hotter,for special temperature environment)
Big pressing chamber,5250mm for length,850mm for width and 600mm for height.
Pressing From Two Side,which compact the scrap metals into one high density bales
Top Loading ,easy to operate
Loading with grab bucket or Steel Conveyor;No installion demands, operating the baler directly;With control platform on the baler, convenient for operating
Equipments Video Chips
Welcome visit ENERPAT YOUTUBE Channel
https://www.youtube.com/watch?v=8Juc3MMge_I
After Sell Service
Enerpat have USA, UK, CHINA, AUSTRALIA service company, supply the 2 days fast
After sales service, we have the complete spare parts supply chain by DHL, which supply spare parts to customers hand fast in 3 days from uk and china
WHY ENERPAT?
(1) Enerpat is the UK company. We have the good credit
(2) Enerpat is the CE certificated company
(3) Enerpat have the complete production management system
(4) Enerpat have ENERPAT UK, ENERPAT Australia, ENERPAT USA, ENERPAT Ukraine ENERPAT Germany, we supply the biggest sales guarantee
FAQ
1) Are you a factory or trade company?
ENERPAT is the UK based company, and we have our own enerpat China factory as the manufacturer.

2) How can I trust your company?
A. ENERPAT is the UK based company located in London
B. ENERPAT is the SGS certificated company
C. ENERPAT have the USA, UK, Australia, Germany company, and more than 450 agents
D. WELCOME to VISIT ENERPAT ANY COMPANY in any time.

3) Is your price competitive?
Enerpat supply the UK quality machines but comes with China price. For the enerpat China made machines