Carpooling offers an easy and convenient way to commute to work, training stations, community centres, congregations, festivals and other places where the destination is same and people have to travel about the same time. Our Envision Carpooling and TravelSmart Carpooling programs facilitate Carpooling in Workplaces and Communities. Carpooling offers a change to create sustainable environment awareness and reduce car traffic thereby easing congestion, car parking and reducing green house emissions.
Why the Envigreen Carpooling Programs are so Successful? Envigreen programs are designed and improved with user behaviour. We have made them easy to use and take away as many User concerns as possible.
Our programs operate in Workplaces and Communities where the participants share a common bond of trust and therefore are more open to sharing a ride as compared to a completely unknown stranger.

The participants have an easy utility to find out who they can talk to before they actually call.

The destinations are fixed to a few and where people usually go, about the same time.

Matching is done in a manner that people can generally find a suitable partner. This takes away frustration of many, who stop using Carpooling after a while.
Carpooling Benefits workplaces & Individuals: Carpooling offers many and s much more than enabling Carpooling. It is vindication of Management's commitment and a quick barometer of how well its Sustainability Principles are lapped by the business. Carpooling makes participants more understanding, caring and productive individuals. It makes sure that there is at least one person who is not driving. It reduces Carparking requirements.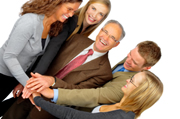 For Individuals, carpooling is initiation into the world of Sustainability and belonging. It brings in certain amount of discipline and understanding. It makes them appreciate the value of time and resources and cost savings. It means bonhomie and transgression into the world of Sustainability. Often this means them adopt a style that is low in resource consumption while still being dignified, convenient and satisfying.