Handle with care: why materials handling innovation is a balancing act
IndustrySearch spoke to Ron Mileham from King Materials Handling about the critical role materials handling equipment plays across a multitude of industries and why it always pays to consult and innovate.
IndustrySearch: What do you see as the main advantages of materials handling equipment?
Ron Mileham: Materials handling equipment offers the opportunity to bridge the gap between manual and semi-automated work processes. It allows us to do more with less; to pass the physical effort on to a machine. It achieves a faster, safer result, and usually enhances a worker's day.
Materials handling equipment offers an increase in productive personal effort, for minimal outlay, and relieves the operator of burdens imposed by the basic process. By increasing output, and helping prevent personal strains and injuries, materials handling equipment makes a lot of sense.
How do you see technology in this arena developing in future?
Most of the good stuff has already been achieved. Naturally, incremental advances are seen every day and will continue to help overall, but from that level, you then move into the non-human assisted level to large scale production and warehousing.
I see future technology being more useful for larger companies, such as Near/Far RFD tags being able to discern just what is in a full pallet load of goods, and where they are destined for, just as they are being considered now for determining the whole contents of shopping trolleys, with a bill generated by a scanner and payment presented as one pass.
I see robots doing all of the stock picking in warehouses of the future and I see Tesla style factories springing up the world over, where technology drives everything, and the spin offs drive other opportunities. I can also see the potential of 3D and 4D printing, and how it will help to achieve the holy grail of supplying all of one's needs as close and as fast as possible from the source to the buyer.
Considering our roads are becoming increasingly clogged with trucks, and there are billions of dollars worth of goods tied up in warehouses, the ultimate goal is to make something and ship it direct via the shortest route, or have it made in the client's premises. I won't be around to see it, but the next revolution is knocking on our doors.
Are there any implications for your industry as a result of technological advances?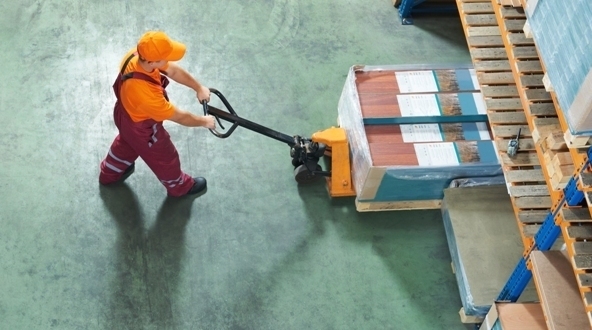 From 25 years of experience, and with so much knowledge, we know it's important to look at a situation as a whole and assist the customer in finding what they really need. From looking at up and down stream considerations, to looking at the option of designing custom materials handling equipment.
The dilemma facing the world is how do we run the truck as fast as ever, yet not throw everyone out of the truck as we turn yet another technological corner. In this industry, many of the older generations of knowledgeable consultants are no longer around, so we see a proliferation of websites where a display of goods with an accompanying price is all that's on offer. There is a real need to offer consultation so the client can purchase the correct equipment to solve their problems.
What sorts of challenges can you face in designing custom built equipment for a client and how do you overcome them?
Price can be a big issue for people, but cheap and poorly designed materials handling equipment doesn't last long in the real world. Time and time again, I have seen products offered for sale, that purport to solve a problem, only to find they create a whole new set of problems.
Low prices can be most enticing, but this is also the worst incentive for buying materials handling equipment, especially when you are trying to marry product strength, longevity, fit for purpose, usefulness, operator compatibility, and quality of manufacture. We make the most expensive drum trolley in the world, which performs four functions exceptionally well. If you were buying based on price you wouldn't go near it. However, once you've used it, you wouldn't think of buying anything else to do the job.
Not all clients can be satisfied with off the shelf equipment or solutions, and our strength is that we tell it like it is. If you buy a product and it sits in the corner, you have wasted your money. In order to ensure equipment is fit for the job at hand, it's important to consult the people who will be operating the equipment. You also need to look at every aspect of operations to determine how the installation of certain equipment will impact the whole production cycle. It's only then that we recommend certain actions; we go to any length to modify or fabricate new equipment to ensure it suits the tasks at hand.
Can you provide an example of innovation that has led to successful outcomes?
Innovation is usually an incremental process, one of continual improvement. It's rare to find a product that turns an industry upside down, but when we see an opportunity to do better, we should, and we do.
For example, the FoldaLift Trolley came about by observing and using the current lift trolleys on the market, and noticing their shortfalls. We offered our services free of charge to the manufacturers, and showed them where their products were lacking. When they had no interest, we made our own better, stronger, more practical folding lift trolley, with more features and benefits.
The day FoldalIft was offered for sale, the opposition trolley was taken out of the market, which proves that constant innovation pays – especially for the consumer.