How business intelligence can boost your supply sales
You may think that business intelligence and analytics don't go hand in hand with your supplies. The reality is, many products are quite centred around the supply-chain, and that in itself highlights the critical importance of analytics for every supplier in the industry.
Four ways business intelligence and analytics improve supply business sales
Process efficiencies are optimised
One of the key concerns for suppliers is the ability to have quick and easy access to their data for analytical purposes. Spreadsheets take time, and these days, they just simply don't cut it. Especially since they take so long to produce when procuring data from multiple sources.
With the advent of analytics tools and business intelligence, businesses have been given the ability to generate custom reports as required (to a certain extent for some tools), and present the findings in a simpler way for non-technical executives.
Ultimately, reporting and analysis can be cut down to a fraction of the time it normally takes, delivering process efficiencies. This will not only help sales people spend less time on reporting and admin, and allow them more time to work on closing sales opportunities, it will subsequently improve profitability and growth in your supply business.
Sales are more likely to progress
In some cases, busy salespeople tend to forget about slow moving sales opportunities, focusing on opportunities that can close quickly. With the right analytics tool, sales opportunities can be stored to show salespeople the opportunities that are stalling so that they can be revisited and acted upon.
Ambu, who produce diagnostic and life support devices, have found it invaluable to have complete transparency and instant access to trusted sales figures and analysis. Having this data helps you to understanding which products are outselling other products, and how your mean sales can easily identify problems or opportunities.
For example, customer X bought so much of Y last year. This year they have yet to make an order or it's substantially less than last years. By analysing your sales and history data not only can you identify the lost opportunity, but you can develop plans to address the situation.
Targeted campaigns are easier to identify
Another way to help your sales team better target customers is to give them access to analytics data that provides necessary knowledge about their customers. It's an incredibly beneficial way for salespeople to know their customers' buying patterns, requirements and preferences so that they can be more targeted in their discussions.
The ability to track and analyse sales performance across different customer types, region and products means better profiling and segmentation of customers. This in turn allows for the delivery of highly targeted and relevant sales and marketing campaigns to specific audience segments. Ultimately this means more sales, more revenue and more profit.
If the most profitable, dependable and low-maintenance customers can be identified, then month after month, they contribute a significant amount to your revenue and profitability. By profiling these customers you can identify and proactively prospect other customers that have similar attributes.
Forecasting and pre-emptive action made easy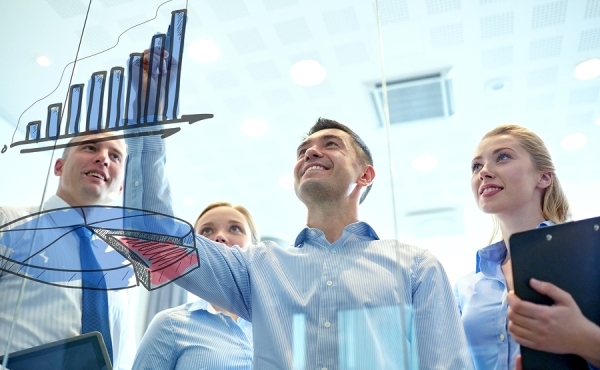 One of the key requirements in the industrial supply industry is to always be prepared for demand. If suppliers cannot anticipate demand increases, they will lose out on sales and worse, they may lose a customer. Therefore, forecasting and demand planning are key components in a supplier's business.
With their ability to take historical information and translate that into projections of future demand, Analytics and business intelligence tools are absolutely invaluable in this business. After all, if a business can't meet customer demands, another business will. So it's very important to stay on top of demand projections and be prepared.
The ability to forecast also helps you to navigate through challenges such as low demand or slow moving products. Additionally, tracking the performance and success of your sales and marketing campaigns in real-time gives your team a head start to respond to problems and issues before they arise. Comprehending and acting upon accurate information early is what's key to pre-empting unpleasant month-end surprises.
Having the right sales information, available at the right time, and in a manner that is easy to understand can bring numerous rewards to your business.