How the right chain cables can reduce costs and increase efficiency
IndustrySearch spoke to John Sharp, National Sales Manager from Treotham Automation about the technology behind chain cables and why purchasing with quality in mind should be one of your main priorities.
IndustrySearch: Why is this technology so important and what are some of its core applications?
John Sharp: Good quality chain cables are extremely important in the Automation industry. To a customer, a flexible chain system only needs to function properly. This assumes that all components are functioning perfectly, including the cables. However, due to increasing loads in the 1980s, guided cables often failed, even though the energy supply system was functioning perfectly.
Often "corkscrews" and core ruptures brought the whole production to a standstill. Often the problem cannot be detected from the outside; therefore it is essential to use good quality chain cables to prevent failures that will result in much higher costs.
Chain cables can be used for a number of applications in energy chains. Some of these include machine packaging machines, quick handling, indoor and outdoor cranes, and machine tools. One of its core applications is for building robots.
What are the key features of quality chain cables?
Quality chain cables have a number of features that regular "chain suitable" cables don't have. When the cable is moving, it is important to use chain cables that have been stranded in bundles, rather than stranded in layers.
Stranding in bundles has been tested efficiently millions of times since 1989 and proves to be a very efficient structure. The wires are stranded with a special pitch length first and then the cores are stranded into single core bundles, with the large ones done around a strain relief element.
The core bundle is then stranded around a tension proof centre, which gives the structure its necessary inner stability when it's pulling and compressing, and remains stable even under maximum bending stress.
In order to prevent shield wire breakage, it is important to have an optimised cable structure. A gusset filled extruded inner jacket can be used to hold the stranded structure together and guide individual cores as in a channel, and serve as a firm, round base for a very tight fitting shield.
High quality chain cables will also have a good shield braiding angle that will neutralise the tensile forces. They will not be able to wander uncontrolled due to the inner stable jacket. The shield also has a torsion protection effect on the stranded structure. A good quality chain cable will also have the right jacket material to suit the application it will be used for to ensure it doesn't break, wear out or swell up.
We deal with a range of igus chainflex cables for different applications. All of the cables are oil-resistant and most are flame retardant. They are for medium to high loads and all have either a PVC, TPE, PUR or (PVC) outer jacket.
Some of the features across the range include halogen free, low temperature flexible, bio-oil resistant, UV resistant, shielded, twistable, notch resistant, hydrolysis and microbe resistant.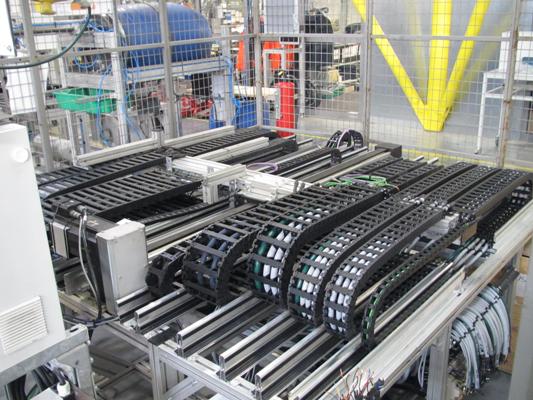 What problems are likely to arise from utilising chain cables that are poorly made, and how can you address these problems?
Many problems can arise from using "chain suitable" cables that are poorly made. When the user doesn't have an understanding of the cable type, structure and quality needed, the whole production process can come to a standstill resulting in high costs.
When "chain suitable" cables have extra stress upon them from heavy loads and change moving to dynamics, "corkscrews" can easily be created, which usually results in core ruptures soon after. This usually happens when cables are stranded in layers, which are easier to produce with a lower cost. The cable cores are stranded in layers around a centre and have a jacket around them in the form of a tube.
Shielded ones will also be wrapped up in fleece or foils. These will usually work well initially due to the elasticity of the materials, however, soon the material will become fatigued and the cores will make their own compressing and stretching zones, and the corkscrew is created. This problem can be eliminated by using a cable structure that has been stranded in bundles.
Another problem that often arises in "chain suitable" cables is shield wire breakage. Many think that the cable shield must only protect the cable from external interferences, as well as shield interferences before transmitting them to the outside.
This concept may work for cables that are fixed but does not work for cables that are moving constantly. This occurs when the foils and fleeces can't create a bond between the stranding, shield and jacket and may fall apart under stress. Short circuits can also be created when the metallic shield rubs on the insulation of the cores. This problem can be fixed by using a shielded cable that has a gusset filled extruded inner jacket over the stranded cables.
The braiding angle of the shield can also cause many problems in "chain suitable" cables. If the braiding angle is wrong, the tensile load will increase and can result in shield wire breakage. The problem can range anywhere from reduced shielding effects to short circuits.
If the shield can be easily pushed back over the jacket after the insulation has been stripped off, it is usually unsuitable for moving energy chains. Therefore, it is important to check the shield braiding angle when purchasing a chain cable.
What should you consider when looking to purchase the right chain cable for your business?
It is important to choose the correct jacket material for your application. You must also pay attention to the cables minimum bending radius, and go for a cable with a bundled cable design. It is important to go for good quality insulating materials such as a gusset filled extruded jacket and make sure the braiding angle is right.