Optimising forklift safety and efficiency | Part 3
In this series of three articles we discuss ways in which you can optimise forklift safety and efficiency for your business.
Global research tells us that there are over 100,000 forklift related accidents worldwide each year. That's an alarming amount, and whilst we've discussed ways to increase safety and productivity through things like training and smart warehouse design in part one and part two, there's always more you can do to your warehouse to avoid dreaded workplace mishaps.
Establish safe crossings and pedestrian only zones
As mentioned in part two, 80 per cent of forklift accidents involve a pedestrian. Safe crossings and pedestrian zones are obviously a crucial element of good warehouse design. Pedestrian zones should be clearly demarcated and physically separated so that vehicles cannot enter.
If it is not possible to physically separate pedestrian and vehicle zones, you should be aware of other options such as vision panels in doors, mirrors for pedestrian and vehicle use, installing pedestrian routes that people would follow naturally and clearly marked footpaths that are obvious to both the people walking them and the vehicles avoiding them.
Barriers should be used not just to stop traffic but also, to remind pedestrians of entrances and exits when moving through the warehouse. Should pedestrians need to cross vehicle routes at your warehouse, you need to think about separating the two areas. Overhead walkways are the safest and best option. But where they are not appropriate, protection through the use of physical barriers with inward opening gates, gates with warning devices and the use of traffic light systems should all be contemplated.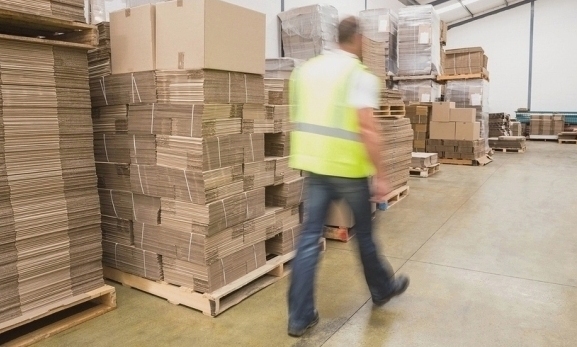 Integrated traffic light systems are a recent innovative lighting technology that help increase safe and efficient traffic flow in your warehouse. By fitting wide angle Superbright LEDs to your doors you can create a safe environment for forklift drivers and pedestrians. These lights provide clear, easily interpretable signals when the doorway is clear, in-use or has oncoming traffic, which greatly reduces accidents and collisions. It is important to consider that all your control measures should also be combined with clearly visible ground markings, lights and signs.
Create a traffic management plan
Supplementary to any measure you take to increase the safety and efficiency of your warehouse, you should also have a traffic management plan. At its heart, a warehouse traffic management plan involves identifying and dealing with risks. Many warehouses operate around the clock; this makes a traffic management plan crucial to smooth, uninterrupted operation.
Any failure in the plan will result in a loss of warehouse efficiency, potentially causing deadlines to be missed and revenue lost. It can also result in product, equipment and facility damage, and in the worst case scenario, involve severe injuries and even death.
A warehouse traffic management plan needs to alleviate risk by accounting for optimal traffic flow and worst-case scenarios. In creating a traffic management plan you should consider more than a simple detailing of how forklifts move around the warehouse. Your plan should include everything from the warehouse design blueprint, up to forklift drivers waving each other on at intersections.
While a good traffic management plan should advise warehouse design, it is most likely that your plan will be made to optimise traffic safety and productivity for your current warehouse layout. Everyone who enters your facility should understand your traffic management plan. They should be aware of designated safe routes, no-go zones and speed limits.
The simplest way to do this is running an induction process. For visitors, you should also provide a supervisor to ensure their safety and protection when navigating your warehouse. Even the best traffic management plan can fail if not correctly explained to everyone involved.
Training is critical and many types of vehicles require operators to have high risk work licences; make sure that your warehouse maintains a high standard of employment, because even the most well designed warehouse can be destroyed by an inexperienced or bad operator. Remember that the most crucial step of any traffic management plan comes after correct risk identification, assessment and implementation of prevention strategies.
A review should also be performed. This is the step where you assess whether your strategies have been effective and how they could be improved. Without this step your traffic management plan will be unable to keep up with the advancements offered by new technology, products and staff experience. Resulting either in your inability to use the more efficient processes or the risk associated with using them when your warehouse is not designed to meet the new demands put upon it.