Power Touch Soft HMI is more than just a Soft HMI, it is almost like SCADA. We made an easy to use, simple operator interface that will save you a lot of engineering hours and design time due to its simplicity and ease of use. You don't need prior programming knowledge to design a screen. You do not need to attend any classes to learn how to program Power Touch Soft HMI. It is Intuitive, it is Simple!
Simplest to Develop and Run on Windows
Unlike other SCADA packages where you have to pay for the software by number of tags and you have to purchase a seperate development software package, this simple to learn and use software is ready to go within hours. More than 30,000 engineers in North America have universally acknowledged the AVG Software to be the easiest to develop and implement.
Works with most PLC Protocols, both Serial and Ethernet, such as Rockwell, Siemens ISO over Ethernet, Mitsubishi, Omron & Schneider, Ethernet IP, Modbus TCP/IP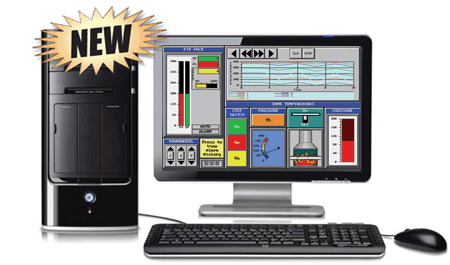 Program this Screen in less than 10 minutes
Simple as 1-2-3 Compatible with Touchscreen devices
Scalable to your PC Monitor's size and resolution