How to Choose the Air Compressor You Need
By: Grant King - IndustrySearch Writer
09 March, 2015
If you're in the market for an air compressor, there's certainly no shortage of options. But that's the problem – there are too many options, a mind boggling array as diverse as Imelda Marcos' shoe collection.
Yet they're all designed to do one thing – blow air. All you have to decide is what you need to blow and how much air you need to blow it.
A compressed explanation
All compressors operate on the same principle. They increase pressure by reducing the volume of a given gas, in this case, air. Basically they squish air in a chamber until it bursts out at high velocity. These are called positive displacement compressors, they're the most widely available and come in reciprocating and rotary varieties. Reciprocating or piston compressors are your more mass market domestic air blaster, while rotary and centrifugal compressors tend to be for heavy duty commercial use.
Reciprocating compressors
These are available through most hardware stores and hire companies in anything from fractional power to super high horsepower and in two forms, single stage or two stage. Single stage air compressors can operate up to 150psi and have a higher cfm (cubic feet per minute) rating than two stage versions.
Two stage air compressors are good for pressures up to 200psi and are generally more efficient at higher pressures, as they cool the air between stages. The best way to compare reciprocating compressors is via their scfm (standard cubic feet per minute) rating.
Rotary and centrifugal compressors
Rotary compressors – screw and vane – and centrifugal compressors operate at much higher horsepower and flow rates than reciprocating compressors to cope with major industrial and commercial work. As a result they are also far more expensive to buy and use.
So what should you buy?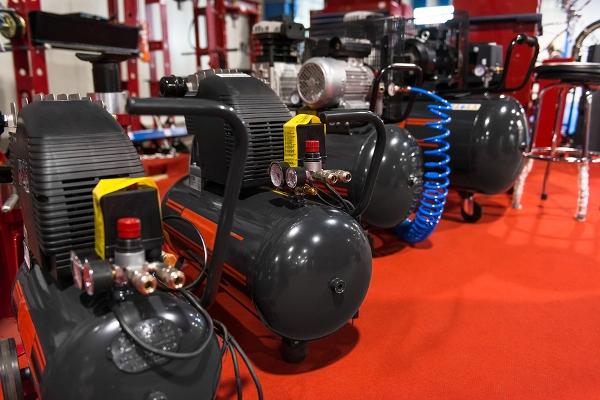 Don't just base your decision on the upfront price. Inexpensive compressors aren't designed to last, so if your job isn't a one-off, buy something that won't run out of puff in a hurry. What is your desired operating pressure and cfm? Work that out and add about 30 per cent as a buffer.
Does your compressor need to be portable? The more powerful it is, the heavier it becomes. Is there a power source or does your compressor need to run on petrol? Electric compressors are cheaper to buy and run, but a gas engine means you can literally work anywhere (weight permitting).
Lastly, how big does your receiver tank need to be? If the job is a short burst, a small tank will suffice. If your job calls for long, sustained usage, go for a bigger tank.
We welcome thoughtful comments from readers