Features of ECOBULK IBC 1000 Litre Pods:
FDA sticker, screw cap and handle are all GREEN for easy identification of FDA-approved containers
Low weight, Maximum safety, User friendly
Exceed statutory requirements in pressure stacking tests
Have increased collision resistance
Have improved stacking resistance with 30% greater surface contact
Have additional corner guards to protect the inner container
The inner bottle is made from Extrusion blow-moulded HDPE
Outer container Welded tubular steel grid, galvanised with an identification plate.
The bottom Plate provides stability and facilitates maximum drainage of residual contents from the inner container
Steel frame with four-way forklift entry
Filling opening: DN 150mm with screw cap,
Footprint 1000 x 1200mm, Height 1165mm Steel skid
Part Numbers: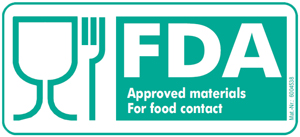 Food Grade - FDA Approved
Standard Thread Type: S60 x 6 thread type, a European-style thread.
Please find below adapters to make it easier to convert to Australian standard
16136 - S60 x 6 female to 2" BSP female
CAML001 - S60 x 6 female to 2" Camlock Male
1,200 x 1,000 x 1,160 (L x W x H)
56kg steel
Max 4 high
We are strongly committed to the highest standard of Professional Services regarding environmental safeguards and Public Safety. We ensure that we comply with all Environment Protection Authority (EPA) provisions and regulations of the NSW Dangerous Goods Act, along with Sydney Water and Local Government Authority requirements.
ECOBULK have specially designed valves to ensure safe and precise control when discharging substances of various viscosities.
Food safety according to FDA-Standard, declaration of conformity
To contact R.J. Cox Engineering about Schutz IBC ECOBULK MX FDA Approved 1000 Litre Storage Pods use Get a quote.