An Australian manufacturer and installer of portable modular buildings has improved the safety and efficiency of its manufacturing & hire operations through the purchase of new equipment from Toyota Material Handling Australia (TMHA).

Ausco Modular builds and installs portable buildings for purchase or hire, and its Australian footprint includes four manufacturing facilities and 15 hire operations spread across the country.

Ausco recently decided to purchase 10 new TMHA Leonardo Elevated Work Platforms (EWPs) for their operational facilities, making the switch from more traditional ladders and mobile scaffolding which had previously been used to conduct work at heights.

Instead of having to constantly adjust the ladders while constructing and maintaining their portable buildings, Ausco workers can now easily navigate the structures thanks to the adoption of the Leonardo EWPs.

Ausco Modular National Operations & Fleet Manager David Leditschke said introducing the new EWP machines has made their operational processes much easier.

"They do the job for us, they're good in tight spaces, they're safe, they add a level of efficiency to our processes and the feedback from the guys that use them is really good as well, which is really important," Mr Leditschke said.

"The fact that it is flexible and you can do tasks at different heights just by using a machine rather than going up and down and changing ladders, but you can also move along, so instead of moving your ladder multiple times you can set yourself at your height and inch along at the job, so it becomes very efficient from a labour point of view."

The excellent manoeuvrability of the Leonardo units allows Mr Leditschke's team to easily navigate its operational facilities, helping to reduce the time required to manufacture and maintain its modular buildings.

Adopting the new TMHA EWPs also improves safety outcomes for Ausco, with the increased size and complexity of modern modular buildings requiring more stringent safety measures.

"Especially these days, the scope of modular buildings is becoming more complex - higher, heavier, more complicated with materials used - so this product adds a level of safety and efficiency to our manufacturing operations," Mr Leditschke said.

"In the hire yards we have to maintain our fleet of 10,000 hire buildings nationally, so when the buildings come back from the customer they need some repairing, some painting, some replacement of materials, and these EWPs give us the same sort of efficiencies that the factories get."

Seeing the improved efficiencies brought by the EWP machines, Ausco also decided to purchase four TMHA ride-on sweepers which have helped the business save on time and manpower, while also ensuring a clean and safe working area.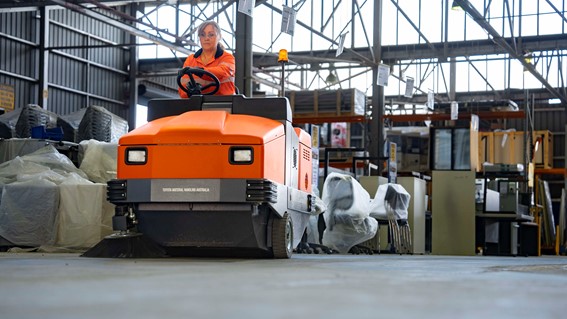 "We've also bought some sweepers recently from TMHA, the ride-on sweepers for our branches and the guys like them just as much (as the EWPs)," he said.
"Once again it's an efficiency game, on a Friday afternoon having three blokes on a broom for two hours sweeping up the workshop as opposed to one guy jumping on a sweeper and having it done in 40 minutes, the sweepers have brought an efficiency to the place.
"And there's also a safety aspect; the floors are clean and there's no hazards."
Ausco has been impressed enough by its new fleet of TMHA EWPs that it has chosen to place a second order, with a long-term goal of replacing all of its ladders and scaffolding with EWPs.
"We were really impressed with the product. We put it out to our business that we'd like to try this as a safety initiative and we got full support to. We bought 10 initially and have just placed orders for another four.
"We're very happy with the performance of the machines, we wouldn't have bought another round if we weren't."
The purchase of the machines and subsequent employee training has been facilitated by TMHA major account manager Chevy Date, who worked with Ausco through COVID-induced supply constraints to help deliver the equipment.
Mr Leditschke said Mr Date has helped to facilitate a positive working relationship between TMHA and Ausco.
"Chevy has been good. He's eager to please, he's very customer-focused," he said.
"I said to him I don't want it just delivered off the back of the truck and 'see you later'. We would like someone from Toyota to come out and teach the guys how to use it properly and show them the features and how to operate them safely, and he's facilitated that.
"And even there were some machines delivered before he was involved in the process, and he's followed up with that to make sure the same information got presented, so he's been good.
"Once you get someone who actually cares about the customer like Chevy and keeps you informed it takes away that frustration."
Ausco Modular can trace its roots back to 1961 when the Australian subsidiary of the Alberta Trailer Company broke ground on a 6,300m
2
factory in Adelaide, which was sold in 1986 to the company Fortuna.
Ausco helped to manufacture the buildings used for the Athlete's Village at the 2000 Sydney Olympics, and in 2021 celebrated 60 years of business in Australia.