Developing a cheaper and super strong titanium product
New ways of welding titanium could lead to cheaper and stronger materials for energy and transport infrastructure.
If you speak of a lightweight, silver-grey material with an atomic number of 22, Professor Madeleine Du Toit's eyes light up.
The University of Wollongong Faculty of Engineering and Information Sciences (EIS) professor, has spent the past 18 years of her career fascinated with metallurgical and welding engineering, with a particular focus on one metal: titanium.
Titanium can be alloyed with iron, aluminium, vanadium and molybdenum, among other elements to produce strong, lightweight alloys.
Du Toit said the applications of titanium and its alloys are numerous. The aerospace industry is the largest user of titanium products, but it is also used in medical prostheses, orthopaedic implants, dental instruments and sporting goods.
"Titanium is widely recognised for its high strength, low density and excellent corrosion resistance. It's used in all sorts of things, from the aerospace industry to golf clubs," Du Toit said.
While titanium is the fourth most abundant metal found on the planet, it is expensive because it is difficult to extract from its ores.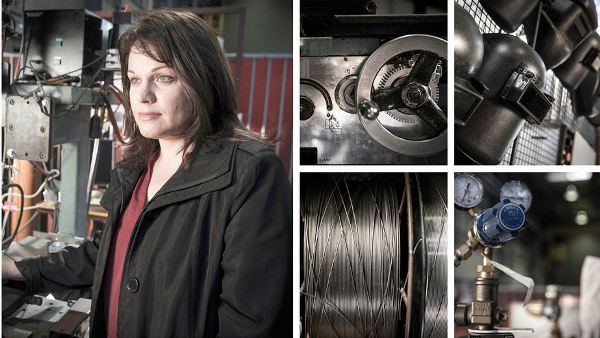 Du Toit said conventional welding techniques, as well as those used to build up parts by depositing weld metal layer-by-layer, lead to formation of coarse titanium grain structures that can reduce strength and toughness.
"The earlier research showed that using a normal welding process to build up a component led to a grain structure that is too coarse," she said.
Du Toit's research has led her to add a special flux to the weld pool during the welding process. This helps to introduce grain-refining compounds across the area where the metals are being fused and prevents the formation of grain structures that weaken the joint.
"We are only at the beginning stages of these investigations into grain refinement in titanium alloy welds," she said.
"Ultimately we believe our research will produce a cheaper to manufacture and more superior titanium product for worldwide use."
Titanium products can be manufactured using a number of methods. Methods that involve machining a part from a billet or block of titanium leads to increased material waste: one kilogram worth of parts made for the aerospace industry takes 11 kilograms of titanium with subtractive manufacturing.
Successfully developing a new welding technique would lead to manufacturing processes that are quicker and cheaper with very little material waste.
We welcome thoughtful comments from readers