How the right container loader can increase supply chain efficiencies
IndustrySearch spoke to Gavin Barnett from Dooen Engineering Services about how innovative and newly designed container loaders can save you money, increase safety and streamline your work processes.
IndustrySearch: Why is this technology so important?
Gavin Barnett: Statistical data shows that the Port of Melbourne handles in excess of two million tonnes of bulk cereal grain alone, which is being exported in containers each year.
If you look at an average packing cost of say, $28 per tonne, the boxes shipped through Melbourne have a packing revenue base of $56 million. That is enormous.
There was a major void within the ever expanding and vital containerised bulk grain export sector for efficient, versatile, safe and cost-competitive packing equipment. In conjunction with consultants who have direct industry involvement, we designed a container filling system called TheMantis.
How does this particular container loader streamline the handling process?
Supply chain efficiencies have been a major issue for the export industry, with commodities having to be repositioned multiple times before loading on ships at wharfs.
This container filling system is designed to reduce the requirements for double handling of commodities without the need for huge amounts of dollars invested into infrastructure that are built and fixed in one position.
This allows containerisation operations flexibility to relocate efficiently to the point of demand, without the need to duplicate those high cost infrastructure costs
What sorts of benefits, economical and operational, can one expect from utilising this container loader?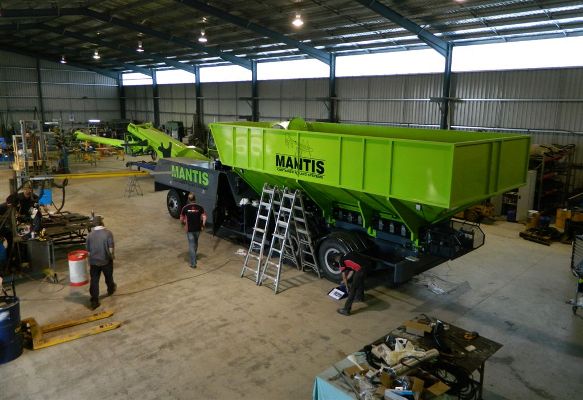 This system has the potential to give huge benefits to any operational container packing facility. Because it significantly streamlines the handling process, it excels at delivering positive economic returns, infrastructure cost reductions and increased mobility. It also reduces the level of staffing required.
Do you have any advice on how to increase safety measures whilst using a container loader?
Safety has been a huge priority for us over the years. We have conducted research with extensive consultation within the industry, and whilst this knowledge is not exactly new, the solutions are.
We have really thought about the safety issues facing shipping container filling industries, and have identified ten main areas of potential high risk, ranging from health issues, to even death in the workplace.
We've found that:
Reduction of staff in production areas means a safer workplace
Personnel working in protected work areas make for a safer workplace
To eliminate the risk of working from heights, you need to eliminate the need to work at heights
Adverse weather conditions, like heat and high winds, are controllable through climate controlled workstations
Exposure to airborne dust particles has high health risks for staff
360 degree vision in production areas is critical to safety
Inter vehicle communication is essential without personnel leaving their work stations
The ability to alert unauthorised personnel that have entered restricted work areas without electronic communication access is needed
Sufficient lighting in work areas is required to allow for 24 hour operation
By reducing the need for precise backing of heavy transport, you are markedly reducing the risk of injuries to personnel and of potential damage to equipment
We believe these aspects of working with container loaders are really important for safety. And based on the points we identified, we designed a completely new and unique shipping container filling system, The Mantis. It incorporates many sub designs and systems that deliver high advances in the ultimate goal of eliminating safety risks in the shipping container packing industry.

For more related information
Bulk Handling Equipment
Shipping Containers
Shipping & Cargo Containers