Industry review: The UK Concrete Show
By: Dr Nicola Davies - IndustrySearch Reporter
02 March, 2015
IndustrySearch visited the UK Concrete Show between 25th and 26th February at the National Exhibition Centre in Birmingham, UK, where we discovered some exciting new innovations.
With concrete as the focus of the show, a number of interesting developments have been brought to the market by Concrete Canvas and Natural Cement. Natural Cement has a low carbon footprint and is chemically resistant and easy to use in wet and dry conditions. It can be used as sprayed concrete, concrete repair, grouting, and waterproofing. Used by Elasto Plastic Concrete, Natural Cement was combined with BarChip fibre with fantastic results.
Concrete Canvas provides instant structures with flexible concrete impregnated fabric that can be rolled out, shaped, hydrated and then left to dry into a waterproof lining. This has been used to make inflatable structures as well as lining drainage ditches, culverts, and extinguishing lakes and roadside slopes that are subject to erosion.
Reinforcing those developments was Elasto Plastic Concrete and WISAblock. Elasto Plastic Concrete was established in the late 1990s in Australia and has since become internationally recognised for their BarChip fibre technology for reinforcing concrete. They made their show debut at the UK Concrete Show with their most cost-effective and best performing BarChip range.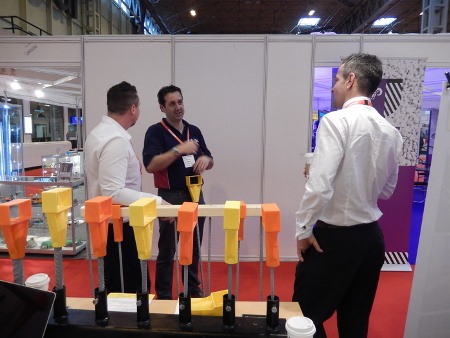 WISAblock aims at ensuring the safety of workers on construction sites by reducing the risk of impalement by a rebar. This innovation is more cost-effective and more time-efficient than previous rebar anti-impalement systems and is 100 per cent recyclable. WISAblock's are robust and yet light-weight and easy to store.
Tekla delivers intelligent 3D modelling software to provide its worldwide customers in the construction, infrastructure and energy industries with a competitive advantage.
Marian Thomasson, Marketing Manager at Tekla, commented: "At this year's UK Concrete Show, we showcased the company's CiP and Precast solutions, with videos demonstrating exactly what Tekla software can achieve for concrete contractors. What's more, our Digital Construction Process Manager, Duncan Reed, delivered an informative and engaging seminar on BIM for Concrete, 'What do you really know?' which attracted many spectators."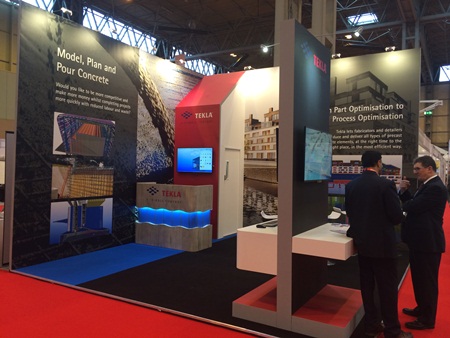 Virtual reality took the show by storm with RMD Kwikform demonstrating an Oculus Rift virtual reality system. The innovative approach allowed visitors to experience RMD Kwikform's ground shoring solution in a unique and inspired way.
Source One Environmental showed their full range of Kryton concrete waterproofing products. Kryton products contain a crystalline technology that reacts with any moisture to create a permanent waterproof barrier. They can be used for grouting, admixtures, spray-applications and repair.
Liquid Rubber Systems debuted their new concrete waterproofing agent, Evercrete Vetrofluid. This formula uses a special catalyst to draw the Vetrofluid into the pores of the concrete up to 40mm, creating a permanent waterproof barrier that is environmentally friendly, odourless, colourless, and non-toxic.
Martin Clarke's seminar at the Concrete Show described the breaking innovation in waterproofing by Ultratech's Ultra-Ever Dry – a hydrophobic and oleophobic coating that uses nanotechnology to repel just about any liquid, including water, concrete, paint, mud and oil.
To conclude the event, Mapei won the award for the most innovative product with their Ultratop Loft. Ultratop Loft can be applied on horizontal and vertical surfaces to provide a uniform and continuous finish that is durable and easy to maintain.
We welcome thoughtful comments from readers