Laser trackers taking precision manufacturing to the next level
A laser tracker is a Portable Coordinate Measuring Machine (PCMM) which uses a highly accurate distance measuring laser with angle encoders to measure points in 3D space.
Some laser trackers have the capability of measuring to an accuracy of better than 0.02mm 3D accuracy to a corner cube reflector (CCR).
At first glance the laser tracker looks similar to a surveyor's total station or theodolite; however its capabilities far exceed these instruments. A laser tracker can reference itself with the support of metrology software such as 'Spatial Analyzer' and you can begin measuring within minutes.
Where have laser trackers been used previously?
Traditionally, laser trackers have been utilised in fields which require precision measurement with portability. These include the aerospace, scientific and automotive industries. Typical applications include aligning of aircraft components and systems, and precise measurement of parts for quality.
When combined with laser scanners, laser trackers also have the ability to gather large point cloud data for reverse engineering or in-depth analysis of a part for quality control.
Should I consider a laser tracker as an alternative to a CMM?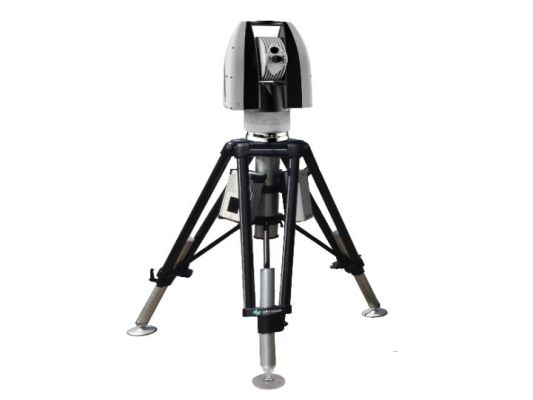 Coordinate measuring machines are traditionally installed in a fixed, environmentally controlled situation. Ideally they need to be located in close proximity to the manufacturing process. This allows for manufactured items to be inspected shortly after they are manufactured, but restricts the part to be inspected to being transported from the manufacturing location to the CMM.
This imposes additional difficulty when the part is too large to move or not easily accessible. This can often be the case where reverse engineering of components is the aim. The size of the component and its suitability to be measured by a fixed CMM must also be considered.
The advantage of a Portable Coordinate Measuring Machines (PCMM's) like a laser tracker is simple. It allows you to move the instrument to the location of the part to obtain the measurement data and allows the measurement of very large components to high accuracy.
This accuracy and versatility has seen laser trackers manufactured by companies such as Leica being adopted by a broad range of users including Formula One teams, Aerospace Manufacturers, Service companies, large scale manufacturers such as shipbuilders and heavy engineering companies. All these organisations require precise, fast, portable measurement.
For these organisations it supersedes the inconvenient and expensive need to have a dedicated CMM installation. A portable CMM like the Leica AT960 Laser Tracker can fit easily into one box, and into a small SUV for transport.
Why don't we simply use a surveying instrument or portable arm?
A laser tracker uses the latest technological innovations in Absolute Distance Measurement and Interferometry (ADM and IFM). This system is known as Absolute Interferometry or AIFM. It is the only technology that allows the highest measurement accuracy of large volume items with a portable measurement machine. No other portable system can achieve such accuracy on large items.