With two large diameter wheels, these ladders move easily over sealed/unsealed surfaces and slopes, making it ideal for both indoor and outdoor use.
Featuring a tilt, steer and brake control it is fast and easy to move to the job. Release of the control automatically returns to the stationary mode where it is braked and totally stable. Fitting of the optional shelf places a toolbox or clipboard at the ideal working height. Tracker ladders are also ideal as a functional order and stock picker.
ur Tracker Ladders are a safe and easy-to-use work platform!
Featuring a completely modular design, Tracker ladders are manufactured from high-quality materials and are built to last. Parts can easily be replaced in the event of accidental damage. The units comply with all relevant Australia, New Zealand and international standards for safety.
Using only one control, Tracker ladders do it all. When moving the platform, an operator is positioned away from the front to allow for normal walking speed. The device requires no additional set up and ensures everyday work activities are completed in less time to increase productivity.
Key Features:
Completely mobile and can be relocated quickly.
Large wheels navigate and travel over most surfaces.
No set-up required and easy to reposition.
Tilt and Steer control minimises operator effort to move the ladder.
Two handrails assist with safe and easy climbing.
Designed to support a load rating of 150 kg.
Designed to comply with authority requirements including Australian, international and industrial standards.
Platform with Safety Railing provides a secure working area that can be adjusted to suit the job (Tracker Pro).
Equipped with an automatic closing gate at the platform entry (Tracker Pro).
Upgrade to a Tracker Pro…
Tracker Ladders are supplied with a Platform Safety Rail system (standard colour – not yellow powder coated) that enables set up from a choice of three configurations to provide improved ergonomics and access for a wide range of applications. Upgrade to a Tracker Pro model and you are protected against accidentally stepping off the front of the platform. Select either an Auto-Gate or Rota-Gate to improve access and completely enclose a worker within the platform. With the fully automatic Auto-Gate, your hands are free to carry an item and still maintain a safe grip as you enter or leave the work-space. Alternatively, the Rota-Gate which provides a gateway at the side of the platform creating easy access for stock-picking, inspection and many other tasks.
Choose the right model for your task.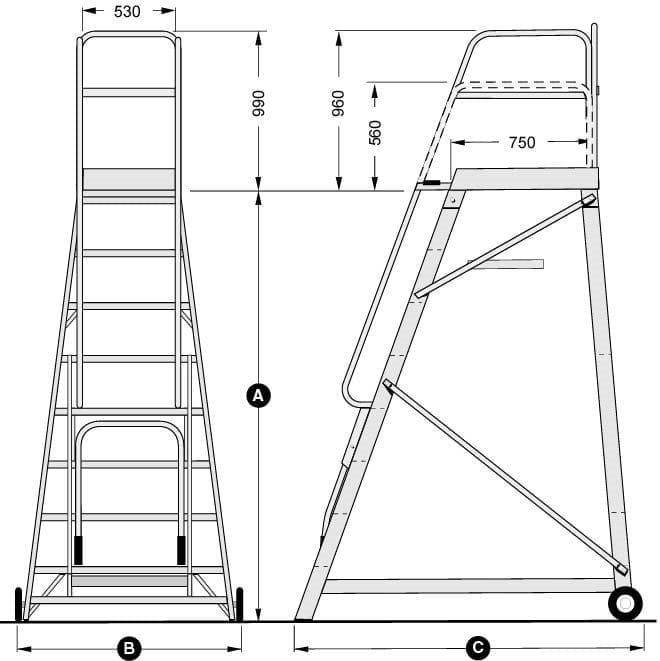 | | | | |
| --- | --- | --- | --- |
| Code | "A" (mm) | "B" (mm) | "C" (mm) |
| SSMT3 | 860 | 840 | 1210 |
| SSMT4 | 1145 | 895 | 1340 |
| SSMT5 | 1435 | 935 | 1470 |
| SSMT6 | 1720 | 975 | 1600 |
| SSMT7 | 2005 | 1015 | 1730 |
| SSMT8 | 2295 | 1055 | 1860 |
| SSMT9 | 2580 | 1095 | 1990 |
| SSMT10 | 2865 | 1135 | 2120 |
| SSMT11 | 3155 | 1175 | 2250 |
| SSMT12 | 3440 | 1215 | 2380 |
| SSMT13 | 3725 | 1255 | 2510 |
| SSMT14 | 4015 | 1295 | 2640 |
All units above are in millimetres.
Tracker ladders require space for an operator to move left or right of the unit. This is in order to maintain steering capabilities in confined spaces. When using the ladder always check the height of doorways and overhead structures, space for turning at the end of storage bays and space for movement in the aisle and between machinery, equipment or fixtures.
To contact Materials Handling Pty Ltd about Tracker Access and Order Picker Platforms use Get A Quote.