It's essential to correctly match the size and performance of a machine to the task in order to maximize both efficiency and economy.
Hako's healthcare range provides professional, reliable, and adaptable cleaning systems that deliver effective cleaning time after time. Plus, our training and customer service team are second to none.
Whatever the environment; waiting room, corridor, kitchen, theatre, or ward, we provide the right equipment for the task. From indoor and outdoor sweepers with advanced HEPA filtration to the latest dust stop technology to reduce airborne dust and scrubber driers with anti-bac disinfecting, the Hako healthcare range offers the complete cleaning solution. With Hako equipment, floor surfaces are left the clean and safe first time, every time.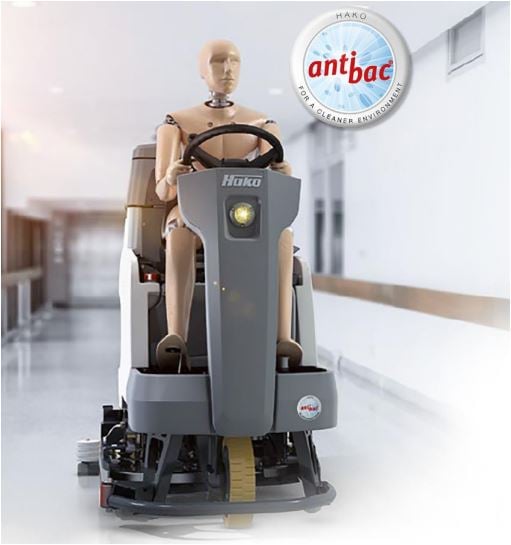 Maintaining high standards of cleanliness and hygiene can be difficult when working around the challenges of a busy healthcare environment. You need reliable cleaning equipment designed to meet your unique needs. Hako has the solution!
The new Dust Stop side brush jacket:

With Dust Stop, Hako has developed a side brush jacket that reduces the development of dust and fine particulates during dry sweeping by up to 90 % in comparison to conventional side brushes – in such an innovative fashion that Dust Stop has received the Purus Innovation Award in the category Equipment at the CMS 2019 in Berlin.
Further benefits of Dust Stop:
• Allows unrestricted sweeping close to walls.
• No objects are damaged, no marks are left on the floor.
• Jacket provides low-noise working.
• Easy installation, easy changing
Hako's range of healthcare machines can help to:
:
Prevent bacterial and fungal growth with Hako-AntiBac® for added peace of mind in hygiene-sensitive areas.

Save labor and resources. Scrub floors clean, dry, and disinfect in a single pass.
Clean for longer. Our quiet running, highly maneuverable machines allow for round-the-clock operation with minimal disruption.
Improve air quality. Less dust and particulates in the atmosphere.
Increase safety. Less risk from slippery floors
Give peace of mind. Feel safe in the knowledge you have a healthier and cleaner environment.
The Hako healthcare range includes:
Scrubmaster B3: The Scrubmaster B3 is designed to perfectly clean those hard-to-reach areas due to its compact design and powerful cleaning abilities. Lithium battery and lightweight design allow a full hour of operational time.
Scrubmaster B45: A compact walk-behind scrubber-drier ideally suited to small to medium-sized areas. Four brush heads with various working widths, ARB- Auto Release Brush on 43cm-51cm models - eliminates brush handling removal or placement, and choice of battery systems. Includes AntiBac® and AquaForce® technology. Scrub and dry in one pass.
Scrubmaster B120R: With a larger water storage capacity, the Scrubmaster B120 is capable of cleaning areas of up to 4200m².
It is simple to use and straightforward to maintain. The B120's robust construction makes it both tough and reliable. If you've got large spaces to keep clean, look no further.
Here to support you
Our customer support team consists of a nationwide technical team as well as an in-house support team of both technicians and customer support coordinators who are always on hand to help. From planned maintenance to emergency breakdown visits, our team prides itself on offering the very best levels of customer service.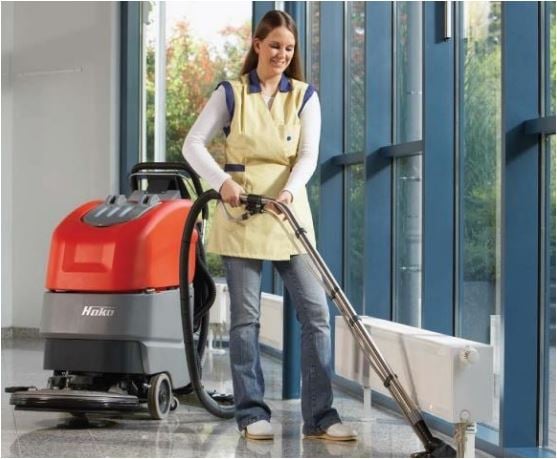 Clean, dry and disinfect in one pass
Our range of high-performance ride-on scrubber driers can now be specified with a simple to use the disinfectant system, allowing you to clean, dry, and disinfect in a single pass. This helps to prevent and contain the transmission of harmful germs from contaminated surfaces. Our disinfectant system can also be retrofitted to older and discontinued Scrubmaster machines.*

Most new models in the Scrubmaster range can be specified with Hako's AntiBac®. This innovative antibacterial coating protects the plastic material of the tanks reducing the development of fungal and bacterial growth, making it easier to meet even the highest hygiene standards.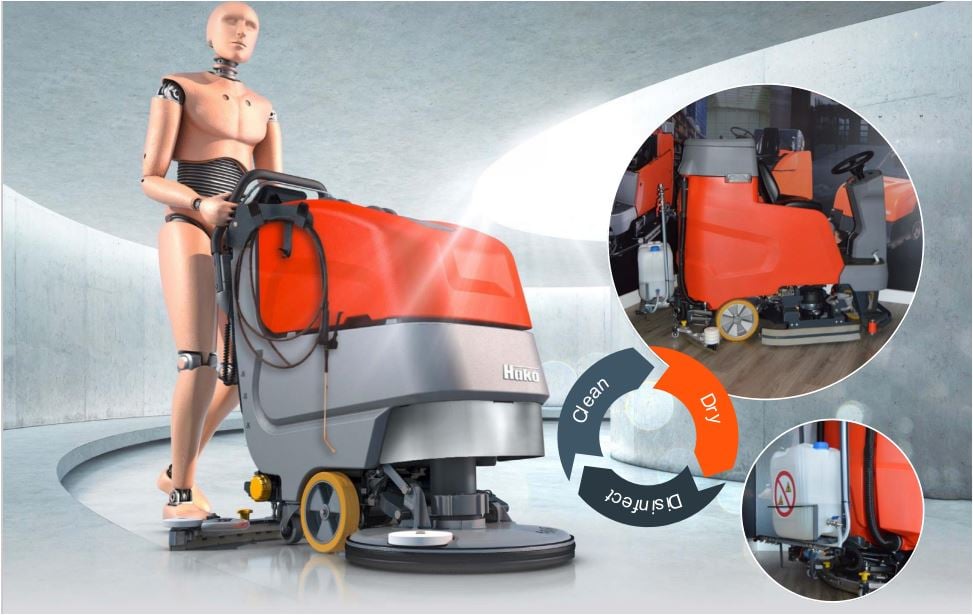 If you are interested in acquiring any type of industrial sweeper, floor scrubber, or vacuum cleaner, you can consult our catalog of industrial cleaning equipment. You can also contact us directly through our contact form and a specialist will advise you on the best option for your need, without compromise.